No need to mail promo kits, call or stop by the venue. Simply email lastexitlive@gmail.com with your band's relevant information such as website and socials, along with a band bio and any information on past show history in the Phoenix market.
VENUE INFO
Last Exit Live is a 21+ only venue with state of the art sound & production. All shows are General Admission with limited seating available within the venue area. We do have a large outdoor smoking patio with some additional seating as well.
Flash photography and videotaping are only permitted with approval from Last Exit Live & Artist with advanced notice. Media must be 21+ to enter.
All guest-lists are due a half hour before doors open
ADVANCING YOUR SHOW
All information regarding the production of your show such as load in, sound check, & where to send band stage plot/input list should be done through our production manager at: lastexitliveproduction@gmail.com
PARKING
We have a conveniently located band parking lot on the south side of our building with direct access to the band load in ramp & door. For those traveling in an RV or bus we have both 30 & 50 amp outlets available for electrical hookup.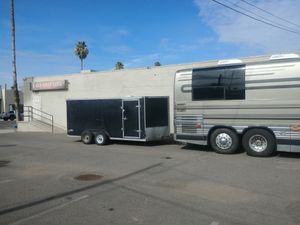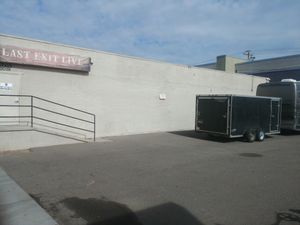 LOAD IN
Load in times vary depending upon show time and other acts on the bill. Please advance your load in time with our production manager at: lastexitliveproduction@gmail.com
The load in door goes directly onto the stage from our band parking lot on the south side of the building. There is no indoor staging area for gear so bands waiting to play must stage any gear outside of the load in door. It is the bands responsibility to secure & watch any and all gear that is being staged outside.
All band & crew members must be identified by approved wrist bands or band credentials for access through the load in door and must be advanced & approved through the venue prior to show. Anyone on the bands guest list must enter through the front door only.
Load-in Door: 7'0"H x 3'6″W
Load-in Ramp: Yes
LOAD OUT
Opening acts must load out immediately following their set and in a timely manner in order to prepare the stage for the next band playing. Once a band has started playing its set the load in door must remain closed throughout the duration of their set.
SOUNDCHECK
We will make every attempt to provide a full soundcheck for the bands performing but sometimes time restraints and the amount of bands playing will only allow for a line check. We typically do full soundchecks for the Headliner and the opening act before doors open. All load in and soundcheck times for your show should be advanced with our production manager: lastexitliveproduction@gmail.com
SET TIME/LENGTH:
Set times vary depending upon the show and how many acts are on the bill. Final set times should be advanced through the production manager.
DOORS
We typically open doors 1 hour prior to the opening acts start time but this can vary depending on show & event.
PYROTECHNICS
Absolutely no pyrotechnics/open fire inside venue or on stage.
BOOKING OTHER VENUES
Local bands playing Last Exit Live should not have another show booked within 2 weeks prior and 1 Week after in the Phoenix Metro area. Your draw could suffer because of this and can affect future bookings at the venue. We want your show to be a successful and memorable experience for your band and fans alike.
PROMOTIONS
We have a marketing department in place to help with the marketing and promotions of our shows. We can coordinate with bands on fliers, social media, local press, and other outlets for promoting their show. Our marketing department can be reached at: roedjam@gmail.com
GREEN ROOM
The venue has a large private green room that includes a bathroom, shower, washer & dryer.
BAND PROMO MATERIALS
Please send all promo materials to:
Last Exit Live
ATTN: PROMOTIONS
717 S. Central Avenue Phoenix, AZ 85004
(11 x 17 posters and/or handbills are preferred)